14th September until 11th October 2010
Day 1 and 2 > Flight from Geneva via Doha to Beijing
Day 3 until 7 > Beijing: Great Wall, Forbidden City
Day 8 and 9 > Qinghai-Tibet Railway from Beijing to Lhasa
Day 10 until 12 > Lhasa: Potala Palace, Drepung Monastery
Day 13 until 26 > Mountain Bike Expedition Lhasa - Yamdrok Tso - Gyantse - Shigatse - Rongbuk Monastery - Mount Everest Base Camp (5200m) - Tingri - Nyalam - Zhangmu/Kodari - Kathmandu
Day 27 > Kathmandu: Boudhanath Stupa, Bhaktapur
Day 28 > Return flight from Kathmandu to Zurich
Starting at CHF 6'280 / EUR 3'915 / USD 5'750 (Flight + Railway included)
Beijing - Lhasa – Kathmandu
1000km China - Tibet - Nepal Mountain Bike Expedition
incl. Qinghai - Tibet - Railway and Mt. Everest Base Camp
Pay less, experience more!
We strive for ADVENTURE and INDIVIDUALITY. With only small groups and an active participation of everyone at our campsites we can have even more fun!
Group Size
You won't be traveling alone with us, yet individually - with minimum 6 and 10 participants at a maximum. One or two Swiss tour guides as well as a local Tibetan guide accompany the group.
Online Registration
The number of participants is quite limited and therefore we hold on to "First come, first served". You can apply online (www.hiddenchina.net) no later than 2 month before departure.
Please click here for a detailed travel itinerary (pdf format)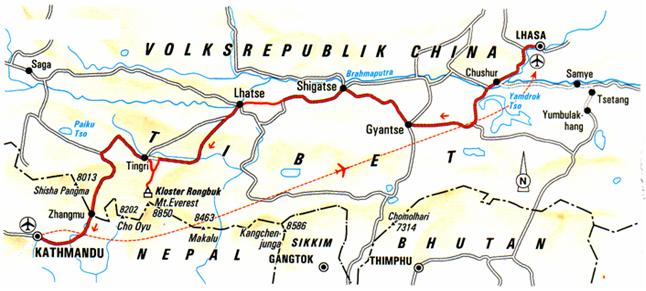 Do you have a question? Use our online support system! Simply click on the "live chat" icon, fill in the required fields and choose an available operator.
Requirements
This trip does require higher physical and mental conditions for the participants due to the high altitude, long distances, mountain climate, poor road conditions and simple living standards. Daily distances cycled will range from 50 to 100 kilometers, with elevation gains up to 1'000 meters. By now, the road is asphaltic to a large extent. Furthermore we will be above 4'000m (and 5'250m at a maximum) most of the time.
A purposeful preparation and an intense training on the bike is recommended. However, every healthy person can cope with this trip without any problems. Not at maximum speed, but as economic as possible we want to get on and adapt therefore to everyone's speed. Thoughts like "I can never do this" should hereby be eliminated. Throughout the route we have the support of a back up vehicle and anyone who is not feeling up to cycling a particular stage has the option to get in the truck.
Accommodation and Food
Besides our local guides we won't have any further personnel - we'll need the strength and knowledge of each participant when it comes to pitching the tents or cooking our meals. On the road, the opportunity arises often to buy fresh vegetable and with it we'll cook a lot of rice and noodles. And of course we'll taste the famous Tampa - the Tibetan national dish, consisting only of corn flour saute. Furthermore we carry always enough bottled mineral water on the support vehicles.
Luggage Transport
We'll be biking without bike-luggage and have only the necessary things with us during daytime. Our personal stuff, camping infrastructure and groceries are transported on the accompanying vehicle. In flight rate included are max. 30kg luggage inclusive MTB, exclusive hand luggage.
Altitude
We'll feel the thin air already upon arrival in Lhasa. Breathlessness, lethargy and mild headaches, connected with eventually feeling sick are the typical symptoms that can occur. We will therefore intentionally trim the activities on the first few days in Lhasa. On the way, we will take care to acclimate only step by step to higher levels.
We will bring along medicaments for prophylaxis and treatment of the light mountain sickness.
Climate
Tibet is known for its rough climatic conditions. Our tours will take place during the best travel seasons, which are spring and fall. However, it can get fairly cold, especially during night time, where the temperature can easily drop well below 0 degrees Celsius. Like as compensation, the early hours in the morning are wonderfully clear.
Enough warm clothing on the one hand, and as well as sunscreen (SF 30+) and sunhat on the other hand are essential to bring along. Except in the rainy season during summer time, Tibet is quite dry. We will therefore be confronted with only very few rain or even snow fall on our trips.