Lhasa - Ganbadongbu
Today we start our bike tour on the friendship highway, which only gives consideration to its name for the first 100km. This is a convenient hop to warm up on asphalted roads. We follow the course of the Tsangpo River up to the foot of the Khamba La pass, where we pitch up the tents for the first time and enjoy a marvelous view on the Tsangpo valley.
Distance: ca. 85km
Accommodation in tents

Impression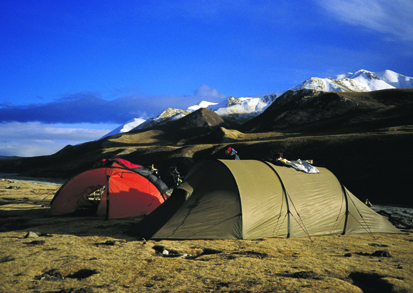 Trip info
Best travel dates:
14. September - 11. Oktober 2010
Destinations:
Beijing, Lhasa, Ganbadongbu, Pelde, Nangartse, Gyantse, Shigatse, Liuxiang, Lathse, Shelkar, Rongbuk, Mt. Everest Base Camp, Tingri, Mento, Nyalam, Zhangmu, Kathmandu
Duration:
28 day(s)
Starting in:
Beijing
Ending in:
Kathmandu
Costs (per person):
39000 CNY
Participants needed:
6
Participants maximum:
10
Download program
Note: to open the program you need the free Adobe Reader.

Contact
Based in
Hidden China GmbH
+41 (0) 44 5866635
Unterloostrasse 12
8461 Oerlingen
Schweiz

Address in China
Shuimulanting Garden
Fuqianyi Lu
Building 5, Apt. 312, Shunyi
101312 Beijing
China

Christoph Müller
cmueller@hiddenchina.net
ch.mue (skype)
+86 18600121273 (mobile)